NEWS
FREE PARTY 09/29 - NYC - UNION SQ PARK
FREE PARTY 09/29 Saturday UNIFIED VIBES - Union Square Park
14th and Broadway -Manhattan NYC

FREE Day Party!
For Fliers visit www.unifiedvibes.com

2 – 6 pm

Amok and Jason BK - (Septik Nexus) freetekno/hardtek tag team
Danielsan - Acid / Tech / Funky House
FoodStampz - Ragga Muffin Dance Hall
Eshin - Drum and Bass Jump Up
Nefarious - Live Tribal Jungle PA
Dove & Big Ears - Ragga Jungle Tag Team
Jeanne Angel - Live Visual Projections
Kaliptus - Live Visual Projections
Kinetic Junglist Movement - Live Dance Performance

...followed by...

FREE After Party
6 – 10 pm
@ The Delancey

168 Delancey -right next to Williamsburg Bridge

21 + W/ID

Madaro (Septik Nexus) - freetekno
Kokopelli Cloudwalker - Ragga Jungle
Loud Zoo & Tangled Puddles on Celestial Threads - Psychedelic Trance
Greenways 8 - Live IDM Performance
Peripheral Media Projects - Street Art on the Roof Top

Please Bring Canned Food for donation for FOOD NOT BOMBS

www.myspace.com/septiknexus
www.foodnotbombs.com
www.renegadevirus.org
www.blackkat.org
www.peripheralmediaprojects.com
www.kjmovement.com
Free -Friday 1-12-06
168 Marcy Ave in Williamsburg. Steps away from the Marcy Avenue stop on the JMZ trains


de.tOP - FREE - Williamsburg - 1/19/07
FREE... FRIDAY 1/19/07

Only a few steps away from Marcy ave. stop of the J M or Z train - in Williamsburg Brooklyn.. 168 Marcy ave

on Friday 1/19/07
Renegade Virus presents:
De.tOP: We Call it ACID!
11pm-6am !FREE! 21+

featuring:

Atomic Babies (DRUMASHEENZ.COM, NY)
***LIVE PA*** ACID Drop Bass style!

DJ John Dough (DRUMASHEENZ.COM, NY)

Integrity (HardMind)
ACiiiiddd

G Stompz (Renegade virus, Dyslexic responses)
***LIVE PA***

Low Key (Renegade Virus)
Acid Techno

Madaro (Blackkat)
Acid Tek, and 92 style german acid!

Amok (Renegade Virus)
AcidCore n Acid Tek

@Boogaloo
168 Marcy ave
JMZ to Marcy ave, venue is 1/2 block away!
only 1 stop from manhattan!
THE BASEMENT - $5.00 - International Acts!! - 12/8/2006
LOCATION :
@ The Basement
16 Waverly Ave
between Park and Flushing, near the Navy Yard
Brooklyn

Click here for Driving Directions/Google Map - From Manhattan - ONLY A 10 MINUTE DRIVE FROM DOWNTOWN MANHATTAN!!!!.. Train Directions coming soon!!!

CLICK HERE FOR TRAIN DIRECTIONS - F TRAIN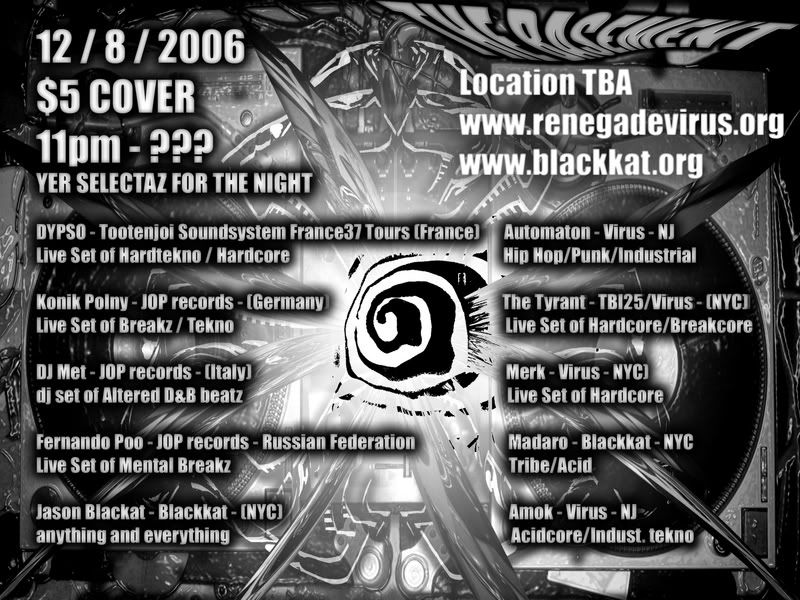 On December 8th the underground survives and peeks its ugly head out one more time...

NYC Sound Systems bring you an amazing event, featuring some of the most cutting edge sounds.

The array of sound will cover everything from DnB, Hip Hop, Punk, Hard Acid, Breakcore, Electro, Breaks, Industrial, Breakcore, and plenty more!!!

We are bringing you artists who have never before been to US, and others who have been bringing you the ill sound for a minute now...
This will be a night not to be missed!!! Night of mind bending sounds.... .. .. .



THE BASEMENT

$5 cover charge
(no exceptionz)

12/8/2006
11pm - ???

The lineup will be:

Dypso - Live Set
Hardtek/Hardcore Tootenjoi Soundsysetm France 37
Tours - France www.myspace.com/tootanjoisoundsystem


Konik Polny - Live Set
BreakTek - JopRec - Germany
www.myspace.com/konikpolny



Dj Met - Altered D&B Beats/turntablizm
JopRec - Italy



Fernando Poo - Live Set
Mental - breakz - JopRec - Russian Federation
http://www.myspace.com/fernandopoo


Jason BK - All sorts of things
Blackkat - NYC



Automaton - Punk/Hip Hop/Industrial - Renegade Virus Sound - NJ



The Tyrant - Live Set Hardcore/Speedcore/Breakcore
TBI25/VrS - NYC



Merk - Live Set
Hardcore - Apocalypse Recordings / Renegade Virus Sound - NYC



Madaro - Tribe/acid
5ssquat/Blackkat/Virus - NYC



Amok - Acidcore/industrial tek
Renegade Virus - NJ

Flyer:




... to be followed by another event following night, same location!....

for more info, and other related ish like muzak etc... visit

www.renegadevirus.org
www.blackkat.org
http://havocsound.cjb.net
R.I.P - Bob Moog - Inventor of the modern Synthesizer
Thank You Bob - R.I.P

>< y l e n e

Biography

Dr. Robert Moog (1934-)
Bob Moog, Inventor of the modern Synthesizer was born and raised in Queens, New York. The son of an Engineer, Moog was introduced at an early age through his dad's work with crystal radios and other home electronics projects.

http://www.moogmusic.com

ASHEVILLE, N.C. — August 21, 2005 — Bob died this
afternoon at his home in Asheville, N.C. He was 71.
Bob was diagnosed with brain cancer (glioblastoma
multiforme or GBM) in late April 2005. He had received
both radiation treatment and chemotherapy to help
combat the disease. He is survived by his wife,
Ileana, his five children, Laura Moog Lanier, Matthew
Moog, Michelle Moog-Koussa, Renee Moog, and Miranda
Richmond; and the mother of his children, Shirleigh
Moog.
New Data23 website
New website for electronic events, music, art & more

Data23.com